Registered Nurse, Associate Degree
Information sessions are held on Wednesday mornings from 9:30 - 10:30 a.m. Limited space is available, call (425) 235-5840 to reserve a seat. The program will accept applications for approximately 24 openings using a selective admission process.
Applications are currently closed.
Spring 2018 application info
Dates for Spring 2018 applications will be posted by August 1, 2017. Additional requirements for Spring 2018 include the following:
Personal statement (max 3 pages) addressing why you want to attend nursing school; your long-term career goals; strengths that make you a strong candidate

Credit for work experience (requires documented letter)

Credit for volunteer experience (requires minimum 50 hours and documented letter)
---
Enrollment Point: Fall 2017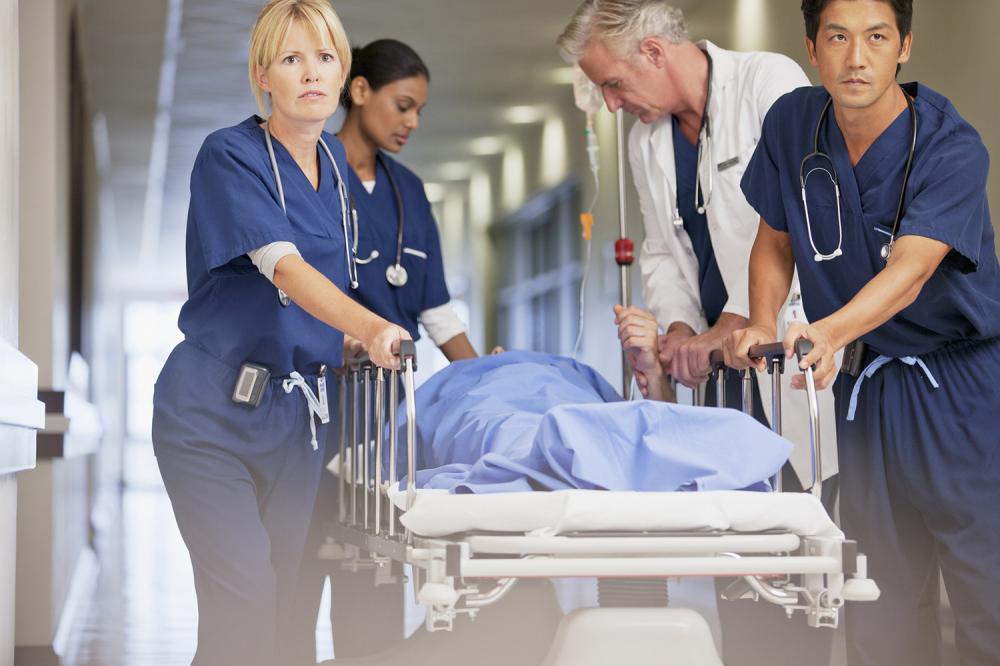 ---
Certificate of Completion:
Associate of Applied Science:
Bachelor of Applied Science:
---
All program lengths are estimates and are not guarantees. For the most current program information, check with an adviser by calling (425) 235-5840.
---
---
These amounts are based on median entry level wages, they are estimates and are not guarantees. For more information, visit careerinfo.net
---
At Renton Technical College, tuition is affordable and competitive.
Federal aid is available for most students to help pay for school. Fill out your FAFSA now to get started.
The RTC Foundation offers scholarships to help pay the costs of attending school.
---
All costs are estimates and are not guarantees. For the most current program information, check with an adviser by calling (425) 235-5840.
---
---
Hours may vary based on specific program requirements. For the most current program information, check with an adviser by calling (425) 235-5840.
---
 Yasmin Ali, Ebony Blackmon-Humphrey, Sue Burnham, Alison Shurtleff
---
Entry Requirements
ADMISSION POLICY:
In order to be admitted to the Associate Degree of Applied Science in Nursing, a prospective student must meet the following requirements.
Minimum age: 18 years (at time of clinical placement)
High school diploma or GED
Communication involving patient care in the clinical setting is critical to patient safety. All students shall be fluent in the English language, including verbal and written.
Hold an active and unencumbered license as a Certified Nursing Assistant for the State of Washington.
Complete seven hours of HIV training certification; the training must have been completed within five years of program entry
COMPLETION OF PREREQUISITE COURSES:
Courses required prior to admission into the nursing program.
BIOL& 160; General Biology – 5 CREDITS
BIOL& 241; ANATOMY AND PHYSIOLOGY I – 5 CREDITS
BIOL& 242; ANATOMY AND PHYSIOLOGY II – 5 CREDITS
BIOL& 260; MICROBIOLOGY – 5 CREDITS
ENGL& 101; ENGLISH COMPOSITION – 5 CREDITS
MATH& 146; STATISTICS – 5 CREDITS
PSYC& 200; DEVELOPMENTAL PSYCHOLOGY – 5 CREDITS
CHEM& 121; CHEMISTRY – 5 CREDITS
Applicants must earn a minimum grade of 2.5 in mathematics and psychology prerequisite courses. Additionally, for all other prerequisite courses, a minimum grade of "B" equal to 3.0 is required.
Applicants may retake the course to meet the minimum grade requirement. However, no more than three attempts to take the course will be accepted per course as meeting the minimum requirement for acceptance to the program.
Applicants must have completed all prerequisite courses within seven years in order for the course to be accepted as part of the admission process.
Applicants will work with the Renton Technical College counselor to assure all courses taken will apply toward admission requirements to the nursing program.
ENTRANCE EXAMINATION:
Applicants are required to complete the Test of Essential Academic Skills (TEAS) prior to admission to the nursing program.
Completion of the TEAS Examination.This is an examination to measure basic academic knowledge.There are four test topics as part of the TEAS examination: Reading, Math, Science, English and Language Usage.
Applicant is required to have a 65% cumulative examination score.
Applicant is required to earn a minimum of 60% score on the Topics of Reading and Science.
It is recommended that students study to prepare for this examination in order to earn a competitive score.
Applicant may take the TEAS entrance examination no more than two times during any admission period in order to earn a competitive score.
Applicant may not take the TEAS entrance examination more than four times at any time in order to earn a competitive score. Scores from the first four attempts will be accepted.
BACKGROUND CHECK:
Required prior to admission to the nursing program:
Applicants will successfully complete and pass a comprehensive background check. Renton Technical College has hired a third party vendor to complete this service for the nursing program. Applicants will be able to complete the background check requirements through the Castlebranch web site.
The background check will include the following: Social Security Administration (SSA) identity validation; criminal history for seven years; Fraud and Abuse Control Information Systems (FACIS); Office of Inspector General (OIG); General Services Administration (GSA); warrants, arrests; sex offender; child kidnapper registry; Office of Foreign Assets Control (OFAC); and State of Washington background verification.
The Washington Board of Nursing Statues and Regulations defines "passing a background check" to include "no criminal convictions." If you have a history of criminal convictions, please speak to a counselor prior to admission.
APPLICATION PROCESS:
Applicant will attend an information session (not required for Spring 2017 application).
Applicant will apply to the program.

Applications will be accepted during open enrollment periods only, occurring twice annually. The open enrollment periods will occur during Spring quarter for the following Fall quarter admission; and Fall quarter for the following Spring quarter admission.
Special application period will be opened in early 2017 for spring quarter 2017 start.
Dates for open enrollment periods will be published on the RTC nursing web site.

Applicants will establish an account and will maintain compliance with immunizations through Castle Branch (http://portal.castlebranch.com/rr63 (use package codeRr75nur). Compliance is required for entry into the program and for the duration of the program.
The following are the screening and tracking requirements: Meet vaccination and program specific health requirements. Immunization timeline table.
Annual tuberculosis skin testing (initial 2-step followed by annual 1-step)
Annual seasonal influenza vaccine
American Heart Association Basic Life Support (BLS) for Health Care Providers
First Aid
Background check through CastleBranch for Registered Nurse Programs
Unencumbered Certified Nursing Assistant or Licensed Practical Nurse license in Washington State
Personal health insurance upon entry and for the duration of the nursing program
Hepatitis B vaccine (series of 3 vaccines and immunity titer)
Measles, mumps and rubella (2 vaccines or proof of immunity titer)
Varicella (2 vaccines or proof of immunity titer)
Tetanus, diphtheria and pertussis (Tdap) within last 10 years
Candidate application packets will be reviewed by Renton Technical College Nursing faculty and staff.
---
Course Information
Course #
Course Title
Crs
NURS 103
Bridge to Nursing**
3
NURS 105
Reproductive Health
5
NURS 107
Mental Health & Reproductive Health Clinical
3
NURS 108
Foundations of Nursing Practice
4
NURS 109
Foundations of Nursing Practice Laboratory
3
NURS 112
Mental Health in the Multicultural Community
2
NURS 114
Health and Wellness
3
NURS 117
Alterations in Health Care Needs
5
NURS 118
Alterations in Health Care Needs Laboratory
3
NURS 119
Reproductive Health Laboratory
1
NURS 195
Foundations of Nursing Clinical
3
NURS 198
Alterations in Health Care Needs Clinical
6
NURS 203
Major Chronic Alterations
5
NURS 207
Major Chronic Alterations Lab
2
NURS 208
Major Acute Alterations
5
NURS 209
Major Acute Alterations Lab
3
NURS 210
Complex Multi-Systems Alterations
5
NURS 230
Transition i

nto Registered Nursing*

2
NURS 281
Leadership and Management
2
NURS 294
Major Chronic Alterations Clinical
3
NURS 295
Major Acute Alterations Clinical
6
NURS 296
Complex Multi-Systems Alterations Preceptorship
4
ENGL& 101
English Composition
5
MATH& 146
Introduction to Statistics
5
PSYC& 200
Developmental Psychology
5
BIOL& 260
Microbiology
5
BIOL& 241
Anatomy & Physiology I
5
BIOL& 242
Anatomy & Physiology II
5
CHEM& 121
General Chemistry
5
BIOL& 160
General Biology
5
Total
116
*Students only take NURS 230 if they enter the RN program having already completed an LPN program, either at RTC or elsewhere.
**Students take NURS 103 if they are entering the first quarter of the program.
---
Program Outcomes
Learning Outcomes for Registered Nurse Program:
Provide safe and competent care to clients, families, and groups utilizing current best practices in client care;

Apply critical thinking and clinical reasoning through the nursing process in client care;

Provide comfort-oriented and evidence-based nursing care within the legal and ethical standards of practice;

Employ culturally sensitive and therapeutic communication skills with clients and families;

Practice professional behaviors of collaboration, advocacy, maintaining of on-going knowledge base, and evaluation of own practice;

Utilize nursing informatics and information technology to support and communicate the planning, provision, collaboration, and management of client care.
---
Accreditation
The Nursing Program at Renton Technical College is currently conditionally approved by the Washington State Nursing Care Quality Assurance Commission. The Nursing Program is not nationally accredited.