Finding Answers to Your Questions
There are three ways we can help you find information without coming to the Library.
---
Use the AskWA Internet Chat Reference
Click on the "Ask WA" banner below to open a chat form. After you submit your question, a reference librarian will be with you shortly. This service is staffed by librarians across the United States.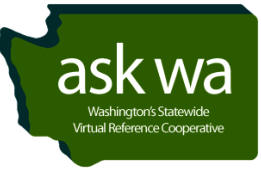 ---
Call the Library at (425) 235-2331
During most of the year, if school is in session, we are open:
Monday – Thursday; 7 a.m. to 8 p.m.
Friday; 7 a.m. to 4:30 p.m.
If school is not in session, hours may vary. If you call when we're closed, and you leave us your name and phone number, we'll return your call the next business day.
And, of course, you can always come into the library!
---
Email the RTC Library for Help (Usually answered within one business day.)
Using the form below, please include this information:
Your question. Give us as much detail as possible.
Your deadline. When do you need your answer? (Remember that there may be a delay in answering.)
Background. Is this for a class? What is the assignment?