Family, friends, and fellow Renton Technical College supporters gathered Nov. 5 to honor the memory of Andee Jorgensen, a former trustee, Foundation board member, and longtime supporter of students. The Student Success Center was dedicated as the Andee Jorgensen Student Success Center on what would have been her 69th birthday.
"We get to do for Andee today what she spent her life doing for others: We get to recognize her and thank her, said Rev. Kirby Unti, an RTC Trustee who also served as Andee's pastor for many years. "She worked overtime to make the community kinder. She knew when everyone is welcome, the world becomes a better place."
The college held a special place in her heart, and she spent over three decades in leadership roles and serving students.
"She was a champion of everything RTC," Unti said "She was most in love with our student population and our robust demographics. She was deeply moved by the journey of students."
Andee's husband, Rich Wagner, said renaming the center in her name is "breathtaking," although he laughed that she would be terribly embarrassed. "She much preferred to do the work than get recognition," he said.
He and their son Damian established an endowment to support student scholarships, which was a particular passion for Andee.
"Andee understood the need for scholarships," Wagner said. "Andee was so proud of RTC and had been an advocate for students for three decades."
Born in Renton and a proud Renton High School graduate, Andee was RTC's longest-serving Trustee. She served three terms on the Board from 1992 to 2003. She served on the RTC Foundation Board from 2004 to 2013, including two terms as Foundation President. She loved supporting students on the Scholarship Committee for more than 10 years. She died in 2017.
The dedication ceremony included the installation of an art project created by RTC welding students that featured a dragonfly. Andee loved dragonflies and collected their images throughout her life. As a universal symbol of transformation and new beginnings, Andee recognized the dragonfly as a perfect reflection of what she admired most about RTC students – their sense of hope and courage to change and grow.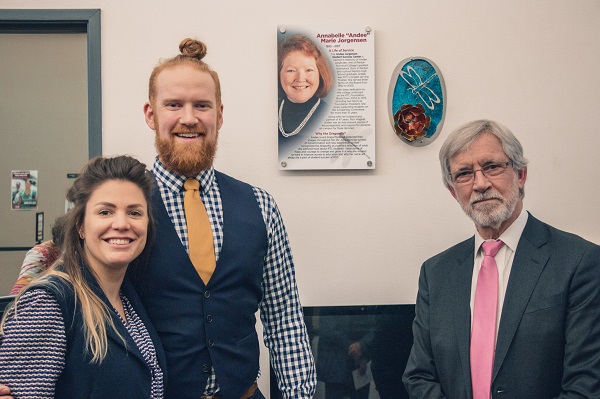 Andee's family stands in front of the memorial to her in the Student Success Center named for her. From right: daughter-in-law Mags, son Damian, and husband Rich Wagner.