Published Tuesday, July 3, 2018
Success in health care is about making connections to people and to communities, and it was strong connections that led Swedish Medical Center to create a new scholarship to benefit nursing students at Renton Technical College.
Swedish donated $15,000 to fund scholarships for nursing and pre-nursing students, with a goal of encouraging more students of color from underserved communities and men to pursue nursing careers at RTC.  Scholarships of $1,000 each will be awarded to the top applicants starting fall quarter 2018.
The first connections started with Pam Gallagher Felt, senior director of finance for Swedish.  Felt's oldest son, Jason Felt, is a cardiac nurse at the Swedish Cherry Hill location in Seattle. He completed his certified nursing assistant course and clinical work at RTC, which helped prepare him for his career. Felt also knew RTC Foundation Board member, Bonnie Nichols, through their sons' past wrestling teams. When Nichols mentioned the idea of a scholarship to Felt, it made great sense.
 "Renton Technical College is special to me," Felt said. "That's why I support it."
She connected RTC with Sherry Williams, director of Community Engagement at Swedish, who helped make the scholarship a reality. Swedish aims to both ease the financial burden on students and diversify the nursing field.
"We want to break down barriers," Williams said. "These scholarships will give people access to education so they can provide the type of care our communities need."
Williams is working with RTC's Associate Dean for Nursing Dr. Vicky Hertig to create other opportunities for RTC students, such as visits to the Cherry Hill simulation lab, job shadows at the Renton location, and clinical opportunities to expose students to career opportunities with Swedish.
"At RTC, the quality of education is so high, graduates go right into the field where they are needed," Williams said.
Hertig appreciates the growing partnership with Swedish.
"These scholarships and the partnership with Swedish will provide tremendous support and motivation for our students," Hertig said. "They further our goals of preparing students for fulfilling careers in the nursing and health care field."
Another connection: Felt is also the board chair for the Providence Marianwood Foundation, which has partnered with RTC to provide scholarships and potential jobs to CNA students.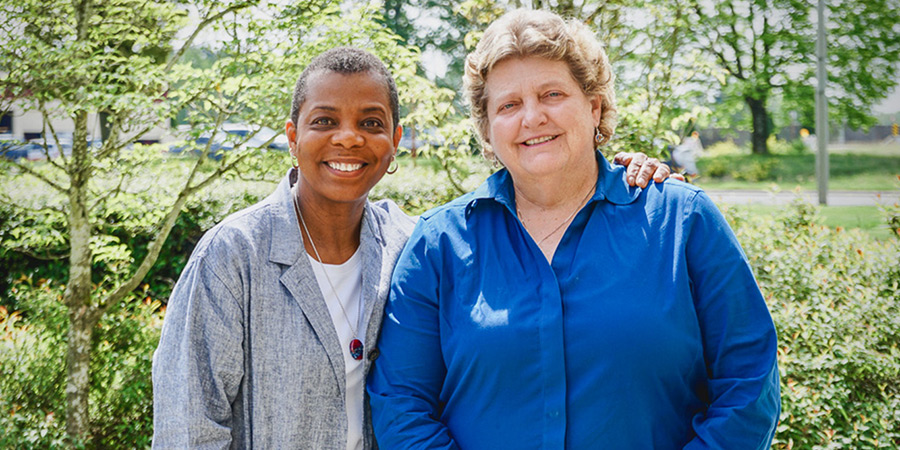 Pictured above: Sherry Williams from Swedish, left, and Associate Dean for Nursing Vicky Hertig are working together to educate more nurses.