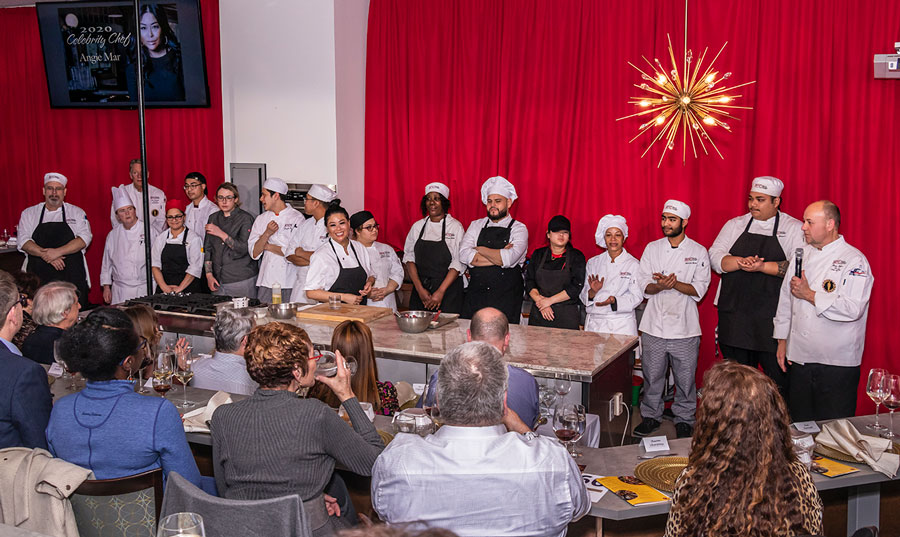 Renowned New York City Chef Angie Mar wowed guests at the Celebrity Chef Dinner and reception with her luxurious cuisine and signature style, and RTC culinary students had the opportunity to learn from one of the best.
Mar, owner of the storied Beatrice Inn, served as the Celebrity Chef at the RTC Foundation's annual event to raise money for Culinary Arts scholarships and program support. The elegant evening included a reception and Mar signing copies of her book Butcher + Beast, followed by an exclusive sold-out dinner with a menu created and prepared by Mar, with assistance from RTC's Chef Tony Parker and top culinary students.
"I'm really excited to be here," she told students. "Mentorship is a big thing we do at my restaurant."
During her visit to RTC, Mar told students how she got started in the restaurant industry and offered advice for aspiring chefs. A Seattle native, she always loved food, and many in her large extended family ran restaurants. She is the niece of famed chef Ruby Chow, who pioneered Chinese cuisine in Seattle.
"I grew up running around the dining rooms in my family's restaurants," she said. "This is like coming home."
But she chose to pursue a career in real estate. When she realized that wasn't her dream and she needed a more creative outlet, she left behind her lucrative career, sold her belongings and moved to New York 10 years ago to attend the French Culinary Institute.
"I had $200 in the bank and two suitcases, and I started school the next day," Mar told students. "I left a cushy job with a 401K and travel. I was working minimum wage shucking oysters and peeling onions for a year because I knew it was what I had to do to get to where I am."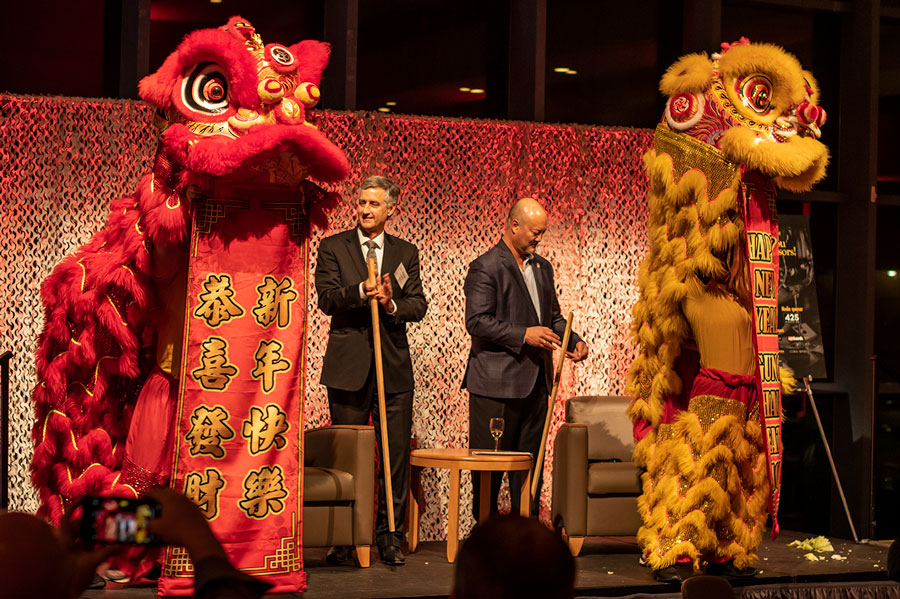 She encouraged the aspiring chefs in the room to show that kind of dedication to their craft and to find mentors in the kitchen. She went on to train in some of New York's top kitchens.
"How are you going to learn if you're not doing it from someone who has been doing it a long time?" she said.
She looks for employees who have shown longevity and loyalty in their previous restaurants. Everyone at The Beatrice has been there at least two years, she said, and her staff includes many family members.
A piece of history, the Beatrice Inn was one of New York's first speakeasies, served drinks to literary greats like Zelda and F. Scott Fitzgerald, was an Italian restaurant, and a night club. Mar took the helm in 2013 and bought it in 2016, turning it into a chophouse focusing on her love of meat, fire, and dry-aging. It is one of the most lauded and sought-after restaurants in the city.
Mar continually experiments with recipes and dry-age techniques. Her most recent brainstorm was a 160-day whiskey dry-aged beef that no one in the United States had done before. It's the most expensive item on her menu.
"I'm not big on vegetables," she said with a laugh, tracing it back to her childhood, where her dad served a lot of meat, and there was always a roast for dinner on Sundays. "I want to cook things I really love."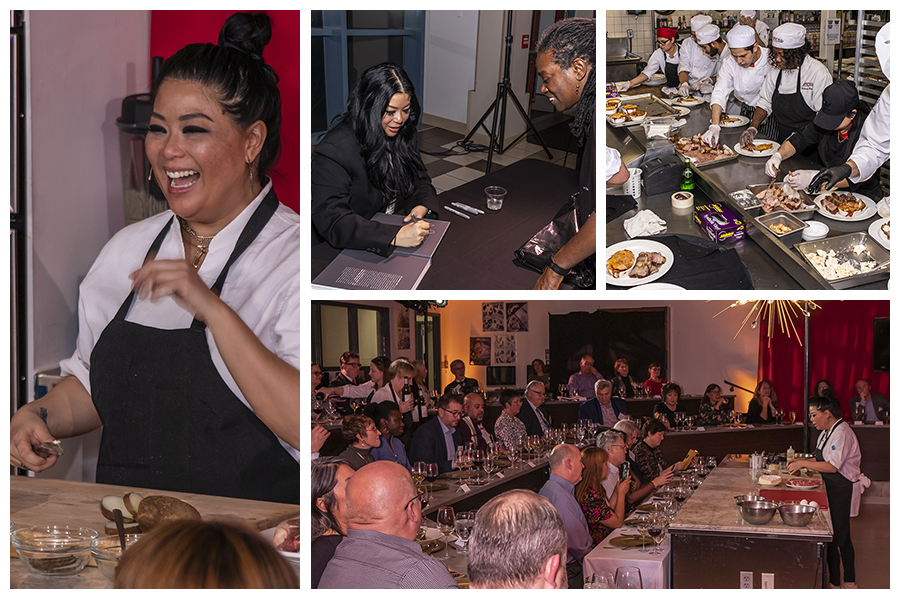 And those who dream of owning restaurants will have to put in a lot of sweat equity and learn the business side of restaurants, she added. Since buying the Beatrice, she puts in about 120 hours per week.
"I spend more time with my cooks and my front of house than with my own family. I spend more time in my restaurant than I do in my own house," she said. "I wouldn't change any of it. It's a life choice."
Students tried to get her to give up details on the celebrities she serves, and while she reluctantly gave up a few names, she made a bigger point about focusing on stellar service.
"Every person who comes into your restaurant should be a VIP," she said. "We treat everyone the same."
Mar certainly made diners feel that way.
"Angie Mar truly won my heart," said Dee Hayward, longtime supporter of RTC's culinary program. "Her food was heavenly and the way she discussed cooking let me know she truly loves what she does. I am reading her book cover to cover."
Mar said she thoroughly enjoyed her visit to RTC and was impressed with the caliber of the students in the Culinary Arts Program.
"It was a wonderful opportunity for my team to be able to give back to the next generation of cooks," she said. "Chef Parker was incredibly lovely, and I truly believe that he is doing great work in the program. The students were amazing."