Published Jan. 1, 2016
Renton, Wash. — The Renton Technical College Foundation is pleased to announce Carrie Shaw as its new director. She began her duties on Jan. 4.
She comes to the foundation with broad experience in legislative affairs, media relations, and business. Most recently, she served as lead strategist and senior manager for the state Senate's Majority Coalition Caucus communications team, where she led strategic planning, brand management, media relations, coalition outreach and social media expansion.
Carrie ShawAs Director, she will oversee the foundation's operations, including long-range planning for comprehensive campaign and stewardship programs, staffing, fundraising, events, scholarships, and communications.
"The foundation director is a vital position within RTC. She will engage both external and internal constituents to support our students and programs. I am excited for Carrie's leadership with the RTC Foundation, as they diversify the funding needed to provide 21st century technical education and economic growth in our region" said President Kevin McCarthy.
"I believe Carrie's public service experience and knowledge of the communities we serve, will make her an outstanding foundation director. My fellow board members and I are pleased to be working with her, and look forward to the energy and passion she brings to Renton Technical College," said Stan Kawamoto, RTC Foundation's board president.
Shaw earned a BA in Communications from Washington State University. Over a successful 18 year career, she directed a successful public affairs campaign that led to the development of the Community Forums Network, an award-winning civic engagement platform, as well as marketing campaigns for Seattle's Dick's Drive-In Restaurants, the USO Puget Sound, and the Hispanic Chamber of Commerce.
She coordinated the national media launch and fundraising for an award-winning public service campaign on the issue of fatherhood for the non-profit Stronger Families. The ad received the National Academy of Television Arts and Science Emmy Award.
Carrie spent six years working in Washington, D.C., where her time included an appointment in the Reagan Administration, serving on the presidential campaign staff of former HUD Secretary, Jack Kemp, and establishing the national PR outreach for a research and advocacy organization.
Shaw's leadership has benefited many organizations, including volunteering on the board of the Chris Elliott Fund for Brain Cancer Research, and the Children's Hospital and Regional Medical Center in Seattle.
More about the RTC Foundation:
The Renton Technical College Foundation is a not-for-profit 501(c) (3) organization. The mission of the RTC Foundation is to change lives by supporting career training, educational advancement and program success at Renton Technical College through fundraising, relationship building, responsible resource management and community awareness. For more information on how you can support RTC students through scholarships or planned giving, contact the Foundation at (425) 235-7867 or foundation@rtc.edu.
###
Direct all media inquiries to:
Renton Technical College Foundation
425.235.7867
foundation@rtc.edu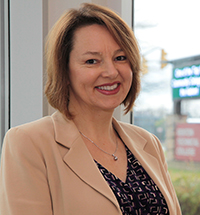 Carrie Shaw