Students, advocates, and faculty will come together at Renton Technical College for a series of lectures and presentations to increase understanding between cultures. The 2018 RTC Cross-Cultural Learning Series focuses on three themes over the course of three months. February is #Black Lives Matter, followed by Islamophobia in March. Events in April will address "What is Whiteness?"
The programs are funded by RTC Student Government and a grant from the Campus Compact Fund for Positive Engagement to bridge divides on campuses and in communities. They build upon the cross-cultural dialogue series student leaders started last year, which included conversations related to race, gender, disability, religion, immigration, and sexual orientation.
Equity and inclusion are among the College's values as outlined in its 2017-2022 Strategic Plan. With a campus that includes 60 percent students of color, the goal is to create a welcoming environment for all students.
"We want to build empathy and understanding about the experiences of our students," said Jessica Supinski, director of Student Programs and Engagement. "This will help create a more welcoming and supportive environment for our students to pursue their education."
Students will tell their stories about injustice and images of Islamophobia, and RTC instructors will facilitate candid conversations. In addition, speakers include Daudi Abe, a well-known speaker on issues related to race, class, and culture, and UW-Tacoma Professor Turan Kayaoglu, who teaches and writes about how Muslims can combat Islamic extremism.
The complete schedule:
2018 RTC Cross-Cultural Learning Series
FEBRUARY: #BLACK LIVES MATTER
Emerald Street: Race, Class, Culture, and the History of Hip Hop in the Northwest
Dr. Daudi Abe
Seattle-based professor, writer, and historian
Tuesday, February 6
11 a.m. - 2:30 p.m.
Blencoe Auditorium
Students Telling Stories: Images of Racial Injustice
Presented by Intro to Communications Students
Monday, February 12
9 a.m. – 10:30 a.m and 11:45 a.m. – 1:15 p.m.
Blencoe Auditorium
#Black Lives Matter Cross-Cultural Dialogue
Led by Angela Logan, RTC Communications Instructor
Thursday, February 15
Room C-111
2:30 p.m. – 4 p.m.
MARCH: ISLAMOPHOBIA
Students Telling Stories: Images of Islamophobia
Presented by Humanities 101 Students
Thursday, March 1
Noon - 1:30 p.m. & 3:15 p.m. - 5:45 p.m.
Blencoe Auditorium
American Muslims: History, Culture, and Politics
Dr. Turan Kayaoglu
Professor and Associate Vice Chancellor for Research, UW Tacoma
Tuesday, March 6
11 a.m. - 12:30 p.m.
Blencoe Auditorium
Islamophobia Cross-Cultural Dialogue
Led by Huma Mohibullah, RTC Humanities Instructor
Thursday, March 8
Room C-111
2:30 p.m. – 4 p.m.
APRIL-MAY: WHAT IS WHITENESS?
Events will be held spring quarter. Watch for more information.
Speakers and Student Storytelling Sessions will be recorded. In-class facilitation of dialogues for evening classes can also be requested.
Press contact: Katherine Hedland Hansen
425-235-2356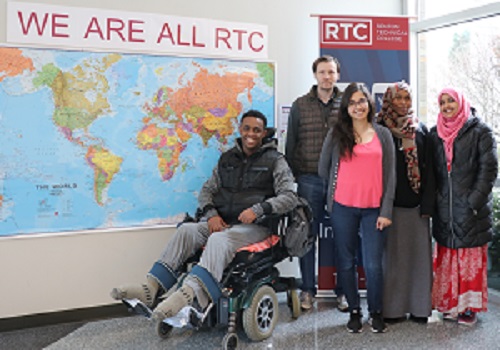 RTC strives to create a community where all students are welcomed and embraced.