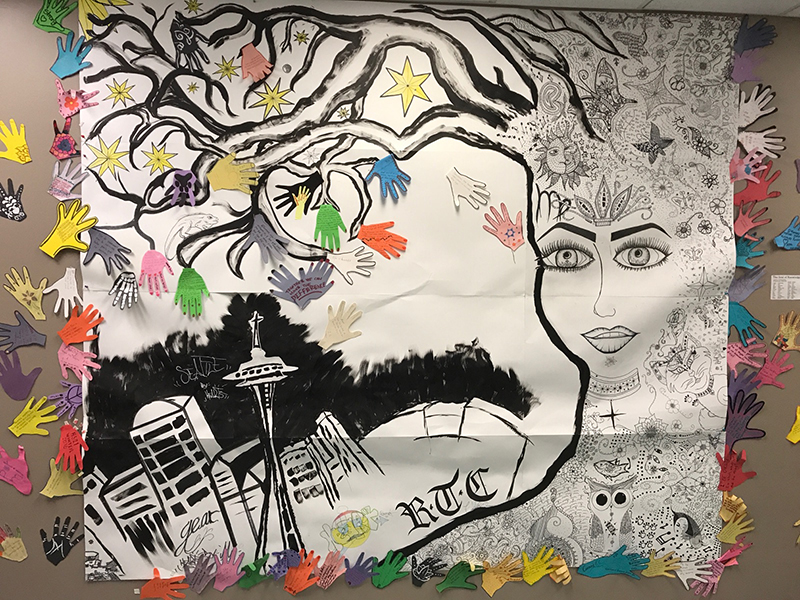 En español
The faculty and staff of Renton Technical College remain concerned about the future of the Deferred Action for Childhood Arrivals (DACA) program. President Kevin McCarthy opposes efforts to rescind the program and joined other community and technical college presidents in asking President Trump to continue the program.
"We experience strength through our diversity, and we strive to be an ever-more-inclusive community in which all people are valued," he said. "Our students, no matter their immigration status, all are invaluable to teaching and learning at RTC, the vibrancy of our community, and the health of our economy." Read his statement.
DACA recipients whose DACA status expires on or before March 8, 2018, have until Oct. 5, 2017 to file a renewal (has to be received by this date). DACA is currently slated to end March 8, 2018. Those who have not filed by Oct. 5 will not be able to legally work. They will be able to keep their Social Security Number.
It costs about $500 to renew, and financial resources are available. Students with financial needs should contact Jessica Supinski.
Upcoming DACA Enrollment Events:
Sunday, Sept. 24, 10 a.m. at South Seattle College. Download event flyer. (Undocumented individuals are welcome at the event as well, since there will be resources there for them.)
Friday, Sept. 29, 3 p.m. at the ReWA (Main Office), 4008 Martin Luther King Jr Way S. Seattle, WA 98108. Call (206)721-8458 to make an appointment.
Please see more information below about DACA, and also check out Northwest Immigrant Rights DACA Info.
RTC offers the following referrals for students with concerns:
---
Read the joint statement by Washington's education leadership.
La facultad y el personal de Renton Technical College continúan preocupados por el futuro del programa Acción Diferida para Llegadas de Niñez (DACA). El presidente Kevin McCarthy se opone a los esfuerzos para rescindir el programa y se unió a otros presidentes de colegios comunitarios y técnicos para pedir al presidente Trump que continúe el programa.

"Experimentamos fuerza a través de nuestra diversidad, y nos esforzamos por ser una comunidad cada vez más inclusiva en la que todas las personas son valoradas", dijo. "Nuestros estudiantes, sin importar su estatus migratorio, son invaluables para la enseñanza y el aprendizaje en RTC, la vitalidad de nuestra comunidad y la salud de nuestra economía".

Los receptores de DACA cuya condición de DACA vence antes del 8 de marzo de 2018, tienen hasta el 5 de octubre de 2017 para presentar una renovación (tiene que ser recibida antes de esta fecha). DACA está programado para finalizar el 8 de marzo de 2018. Aquellos que no han presentado por 5 de octubre no será capaz de trabajar legalmente. Ellos podrán mantener su Número de Seguro Social.

Cuesta alrededor de $ 500 para renovar, y los recursos financieros están disponibles. Póngase en contacto con Jessica Supinski.
Próximos eventos de inscripción de DACA:

Domingo, 24 de septiembre, 10 de la mañana en el South Seattle College. Descargue el folleto del evento. (Los individuos indocumentados también son bienvenidos en el evento, ya que habrá recursos para ellos.)
Viernes, 29 de septiembre, 3 p.m. en el Rewa (Oficina Principal), 4008 Martin Luther King Jr Way S. Seattle, WA 98108. Llame (206)721-8458 para hacer una cita.

Por favor vea más información abajo sobre DACA, y también revise Northwest Immigrant Rights DACA Info.

RTC ofrece las siguientes referencias para estudiantes con preocupaciones:


Lea la declaración conjunta del liderazgo educativo de Washington.