Published Friday, September 16, 2015
In order to prepare for integrated technology offerings and single sign on for student applications in the future, it is necessary to reset all of our current student passwords to the default password. This will occur on Friday 09/16/2016 at approximately 10:00 PM and Email will be unavailable until Sunday at 08:00 AM . All mailbox email messages will be retained, the only thing that is affected is the password for each individual.
---
To access your mailbox use the default password after 8:00 AM on Sunday 09/18/2016:
Default / Initial Password
When a student's e-mail account is first created, a default or initial password is automatically generated that starts with a capital "R" and lowercase "tc" (the initials RTC are an abbreviation for Renton Technical College) plus the student's birth date in YYMMDD format, where YY stands for the two-digit year; MM stands for the two-digit number of the month, and DD stands for the date (use a leading zero if before the 10th of the month). Passwords are case-sensitive; usernames are not.
| | |
| --- | --- |
| If Your Birth Date Is: | Your Initial Password Will Be: |
| March 6, 1977 | Rtc770306 |
| July 22, 1951 | Rtc510722 |
| April 9, 1990 | Rtc900409 |
| Dec 16, 1965 | Rtc651216 |
After logging into your mailbox please change your password immediately. You must choose a strong password that contains a minimum of 8 characters to a maximum of 16 characters. t must contain a combination of uppercase and lowercase letters, and at least one number or symbol.
Changing Your Password
The first time you log into your student e-mail account, Office 365 will prompt you to change your password to something that meets the criteria outlined above. Immediately after you log into your account for the first time, the following screen will appear: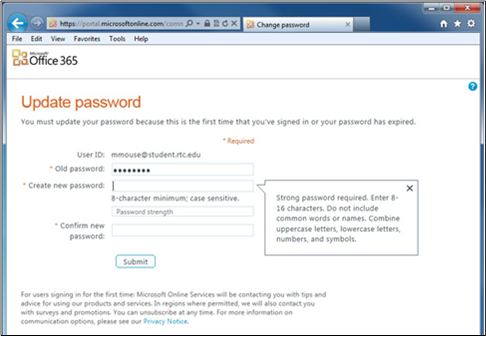 Type your default (initial) password into the Old Password field
Type a new password into the Create new password field
Type the same new password into the Confirm new password field
Select the Submit button
In addition this information is on our website at: http://www.rtc.edu/sites/default/files/20160916-passwords.pdf