Published Tuesday, June 21, 2016
RENTON, Wash. – Commencement ceremonies are the stuff of memories, but this year's event at Renton Technical College (RTC) is especially important for Enjoli and Elijah Harris.
On Thursday, June 23, the mother and firstborn son will both walk the Kent ShoWare Center stage together, Enjoli as a high school graduate, and Elijah as both a high school diploma and associate degree recipient.
It will also mark 19 years since Enjoli first dropped out of high school while pregnant with Elijah.
"We have a unique relationship," Enjoli said. "I love it that 19 years later he is a big part of my life and that we get to experience this moment together."
Enjoli and Elijah will join about 1,400 other students who completed certificates or degrees at RTC this year. They will also serve as the keynote speakers at the ceremony.
Enjoli has known her share of hardship. Pregnant at 17, she dropped out of high school to raise her son on her own. She married in 2003, but that turned into a violent relationship that left her traumatized and disabled.
As a lifetime resident of Renton, she was familiar with RTC and its career training programs, and came to the college for the skills to earn a new job. She completed two certificates there, one in the phlebotomy program and another in the accounting program. She remarried in 2009 and focused her energy into raising Elijah and his three brothers (two from the new marriage), all of whom have been schooled at home.
Elijah's experiences with RTC started when he reached 10th grade. As he looked to the future, he decided to enroll in the Running Start program, a state-funded option that allows high school level students to take classes at community colleges, earning both a high school diploma and college credits. Renton Technical College seemed the natural choice for that.
"I grew up near the college and always wanted to go there," Elijah said.
Elijah took full advantage of the program, taking classes toward an associate degree in computer network technology. While his grades coming into RTC had not been great, he excelled in his new environment, earning a place in the Phi Theta Kappa honors society and working as a student leader on campus.
His experience was so inspiring that it convinced Enjoli to pursue her own high school equivalency through the High School 21+ program at RTC. She did so well that she now plans to pursue associate and bachelor's degrees, with the goal of earning a master's degree in psychology.
All of this history will culminate in one proud moment on Thursday, when mother and child together reach for their new diplomas.
"It's awesome that both of us have completed our goals as a family," said Elijah.
"I'm honored I have a son who wants to share that with me," Enjoli said.
###
The Renton Technical College graduation will be held on Thursday, June 23, 2016 at ShoWare Center in Kent. The ceremony begins at 7 p.m.
For a map and driving directions, click here.
For more information or to contact Enjoli or Elijah Harris:
Roberto Bonaccorso
Director of College Relations and Marketing
(425) 235-2356
robonaccorso@rtc.edu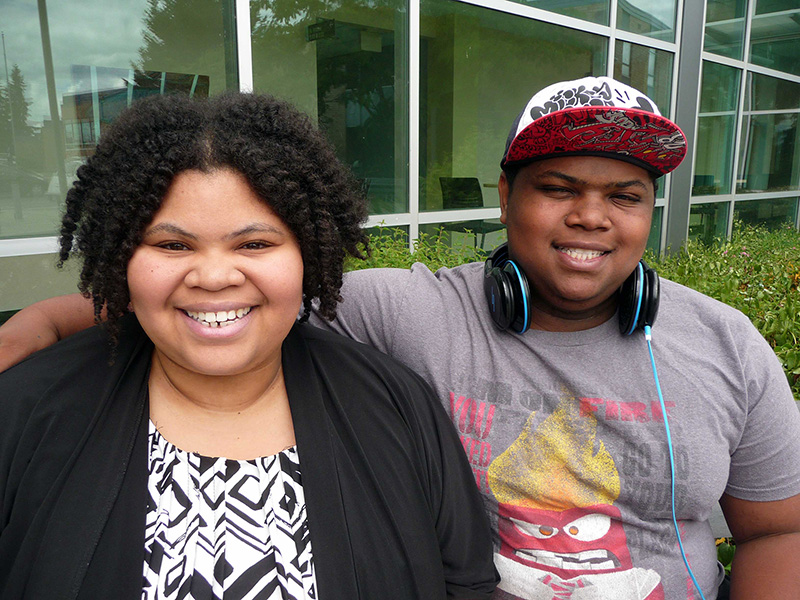 Enjoli and Elijah Harris will graduate from RTC at the same time.