1929-2011
Brief Biography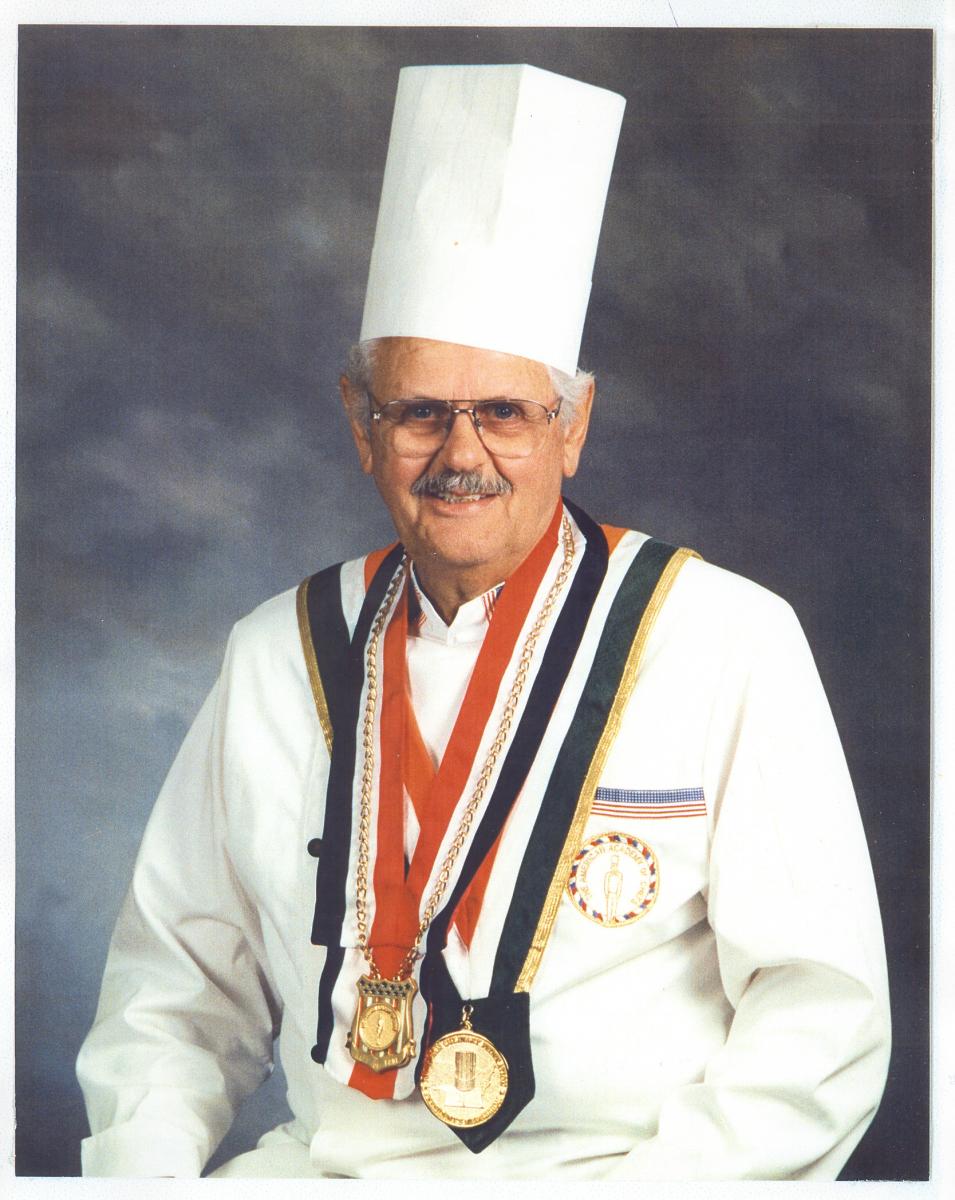 Chef Darrell L. Anderson has been employed in the education, restaurant, and catering industries for over fifty years. As a chef, he worked in some of Washington State's well-known restaurants. As a caterer, he worked for such notables as the Seattle Seahawks. And as an educator, he trained over 2000 young culinarians, many of whom went on to become executive Chefs, culinary educators and restaurant owners. He was involved in state and national organizations that encouraged a greater dissemination of culinary skills and the professionalization of culinary education in the United States.
Chef Anderson was born in Hood River, Oregon on April 27, 1929. He grew up in Parkdale, Oregon. His first restaurant work was in Parkdale's Orchard View Café.
He had his first formal culinary training in the United States Army in 1950. He was an honor student at the 6th Army Food Service Culinary School. After graduation he worked for a year as that army's youngest culinary instructor, at Fort Lewis, WA. He then transferred to Yokohama, Japan, where he was responsible for the work of 120 chefs and KP workers, serving up to 3000 meals a day.
After leaving the army, he enrolled at the Edison Technical School of Culinary Arts in Seattle, Washington, in 1953. (Edison was the precursor to the Seattle Community College system.) He studied under five European chefs. After graduation, he was the chef at several clubs in eastern and western Washington.
Chef Anderson married Catherine Dickinson in 1951. They have four children; Deborah, Dana, Darwin, and David.
For several years he was the owner/chef of Rose's Hi-Way Inn, a Washington State landmark. In 1967 he accepted the position of department head of the Culinary Arts program for the SeaTac Occupational Skills Center. He worked there until his retirement in 1991. Until 1998, he also owned and operated King Catering.
In 1955 Chef Anderson became active in the American Culinary Federation and the Pacific Northwest Chefs De Cuisine Association (PNCA), now known as the Washington State Chefs Association. He was Vice-President of the PNCA in 1962-1963, the President in 1970-1971 and 1980-1981, and Chairman of the PNCA Board of Directors 1972-1973 and 1982.
At the national level, he held several posts in the American Academy of Chefs, including Secretary from 1994-1996, and Chairman in 1978. He is the Chair of the in American Culinary Federation (ACF) Foundation Senior Chefs Committee
Chef Anderson's awards include:
The Good Taste Award – in 2003 by the ACF – "Academy Fellows who have been actively involved in furthering the culinarian's greatest achievements and upholding the traditions of classical cuisine."
Induction as a Celebrated Chef into the American Academy of Chefs Culinary Hall of Fame in 1996.
Recipient of the ACF Hermann G. Rusch Award in 2003. This is awarded to "chefs who have demonstrated the highest level of commitment to both ACF and the culinary profession"
The ACF Presidential Medallion in 1998
The ACF National Presidents Award in 1985
The ACF Service Award in 1989
Induction into the ACF Hall of Fame in 1996
Chef Anderson donated his papers to Renton Technical College in 2007. He passed away on April 10, 2011.
For more information, please contact the library at (425) 235-2331 or by email at librarian@RTC.edu.