RENTON, Wash. –Students of Renton Technical College's (RTC) Construction Trades Prep and Property Maintenance programs, along with their instructors, have partnered with the Seattle-based nonprofit Low Income Housing Institute (LIHI), to build tiny houses for area homeless. This project is part of a growing national movement to address the immediate and transitional housing needs of homeless people.
This service learning project is spearheaded by RTC instructors Matt Peterson, Kathleen Mullins, and Scott Miller. The students donate their time and talents in the construction of these tiny homes. The design and materials used were all donated by LIHI. The college's many vocational programs have a long history of service learning projects benefiting the community, but this is the first that addresses housing needs.
Tiny HouseOnce complete, the tiny houses will be moved to "Nickelsville," a homeless community in South Seattle.
"This project was both personally and professionally rewarding," said Matt Peterson, an instructor in the Property Maintenance program. He went on to add, "It allowed us to integrate theories and lessons we teach in the classroom, into this small scale, but meaningful home. The homes are well built and will make a real difference in someone's life."
RTC's Construction Trades Prep program teaches skills for apprenticeship or entry-level employment in construction, manufacturing, maintenance, and related industries. The Property Maintenance for Multi-Family Residences program serves entry-level and incumbent workers who are learning skills to maintain multi-family housing complexes.
###
Direct all media inquiries to:
Melissa Rohlfs
Renton Technical College
Phone: 425.235.2356
Email: mrohlfs@rtc.edu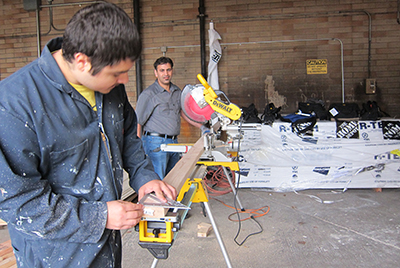 Students build tiny houses at RTC.