A generous contribution will allow Renton Technical College to purchase a diesel truck for its automotive program. Donors Bob and Juanita Watt presented a $10,000 gift to the college at the Renton Technical College Foundation 2017 Scholar and Donor Reception Sept. 28.
The event celebrated the many donors who help make an RTC education possible through scholarships and also honored some of those recipients. RTC President Kevin McCarthy thanked donors who support student success and access to education.
"So many people can't even think about going to college without support from us," RTC President Kevin McCarthy said. "Financial constraints can be a barrier to access."
The Watts, whose son, Rob, is the associate dean for Workforce, Trades & Economic Development at RTC, also fund the Watt Family Aerospace Diversity Fund, which awards scholarships to students from underrepresented groups pursuing aerospace careers. Bob Watt served as a vice president at The Boeing Company focusing on global corporate citizenship.
Another faculty member who has dedicated her life to helping students succeed also recognized recipients of a scholarship her family started. Michele Lesmeister, who has taught in the basic skills program at RTC for 27 years, created the Thresa Jane Smart-Benjamin Scholarship in memory of her mother. It will support women students in their transition from Basic Studies to career training – a vital step toward greater independence and family-wage jobs.
"My mom was of the belief that if you educate a woman, you educate a community," Lesmeister said.
Nine women will receive awards of $1,000 this academic year. The first recipients are Aurelia Turcan, accounting; Sintayehu Yeshaw, pre-nursing; and Elena Zolotao, computer science.
Darrin Williams, vice president of real estate services Unico Properties, also recognized the four recipients of the Unico Scholarship given to students in the Commercial Building Engineering Program. They are Mazin Alrawe, Ali Kadkhouda, Christian Taylor, and Dean Thompson. The company sponsors three $500 per-quarter scholarships to incentivize students to enroll in RTC's commercial building engineering program with the goal of increasing the number of graduates for the construction industry – an industry eager to hire skilled workers.
Students David Cleaves, construction management, and Zahraa Ismael, engineering design, gave powerful presentations about the difference RTC has made in their lives. Ismael, an immigrant from Iraq, is studying engineering design and dreams of being a teacher. Cleaves, a Marine veteran, came to RTC with a degree in architecture to get some updated skills training. He ended up staying for a construction management degree, which will advance his career.
"I've gone to other schools before, and I've never had such a warm, welcome embrace," he said.
Learn more about the Renton Technical College Foundation.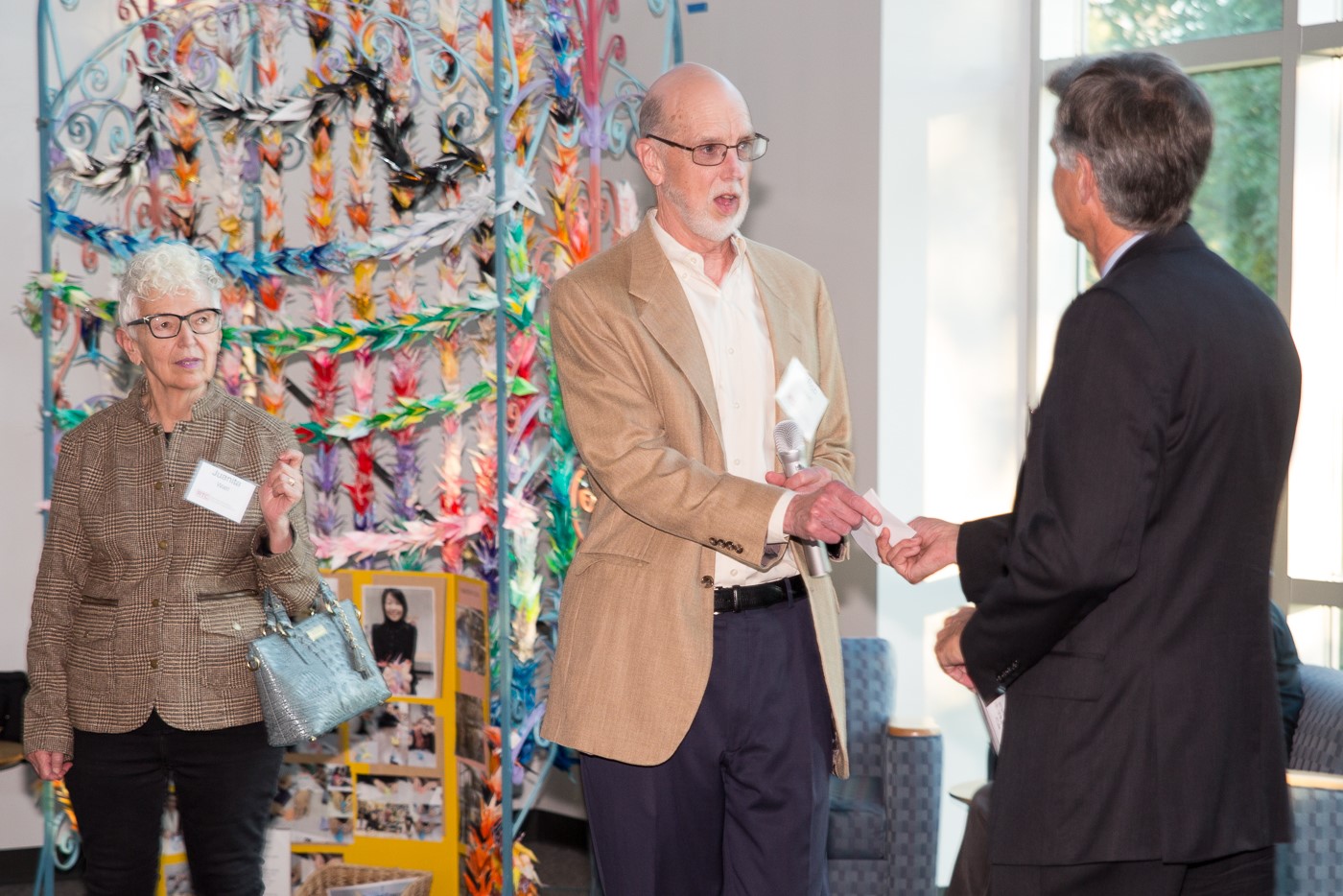 Bob and Juanita Watt present a check to President Kevin McCarthy to go toward the automotive program.