Renton Technical College will receive $1 million to create educational tracks to help students design their education around their interests and graduate sooner. Known as Guided Pathways, the approach simplifies the number of choices regarding course selection and directs students into intentional, comprehensive programs of study.
Five colleges, of 17 that applied, were selected to receive Guided Pathways implementation grants from College Spark, which funds programs across Washington that help low-income students become college-ready and earn their degrees. In addition to the grant, each college will receive a $500,000 allocation from the State Board for Community and Technical Colleges, over five years.
"These colleges demonstrated a strong understanding of Guided Pathways and a deep commitment to the benefits and challenges associated with this ambitious reform," said Jan Yoshiwara, executive director of the Washington State Board for Community and Technical Colleges. 
RTC has the state's highest three-year completion rate among community and technical colleges – 61 percent – but the College intends to increase that, especially among underrepresented groups.
"Ensuring that all our students succeed is our highest priority, and Guided Pathways is another way to encourage that success," RTC President Kevin McCarthy said. "RTC has already begun this important work, and this funding will allow us to fully implement our initiative."
The College has already grouped programs and degrees into seven Areas of Study to make it easier for students to find the best career fit for them and then take classes in the best sequence to complete their education sooner. The Areas of Study are Advanced Manufacturing, Business Management, College & Career Pathways, Culinary Arts, Health & Human Services, Information Technology, and Transportation Technology.
During the first year of the grant, RTC and the colleges to receive the funding will create implementation plans. SBCTC will provide technical assistance and coaches and facilitate opportunities for the colleges to learn from other Guided Pathways colleges around the country as well as experts in the field of institutional change management.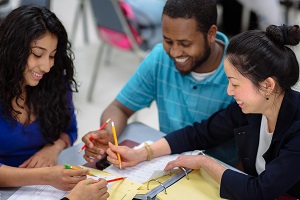 With $1 million in funding, RTC will implement Guided Pathways to help all students on the path to graduation.