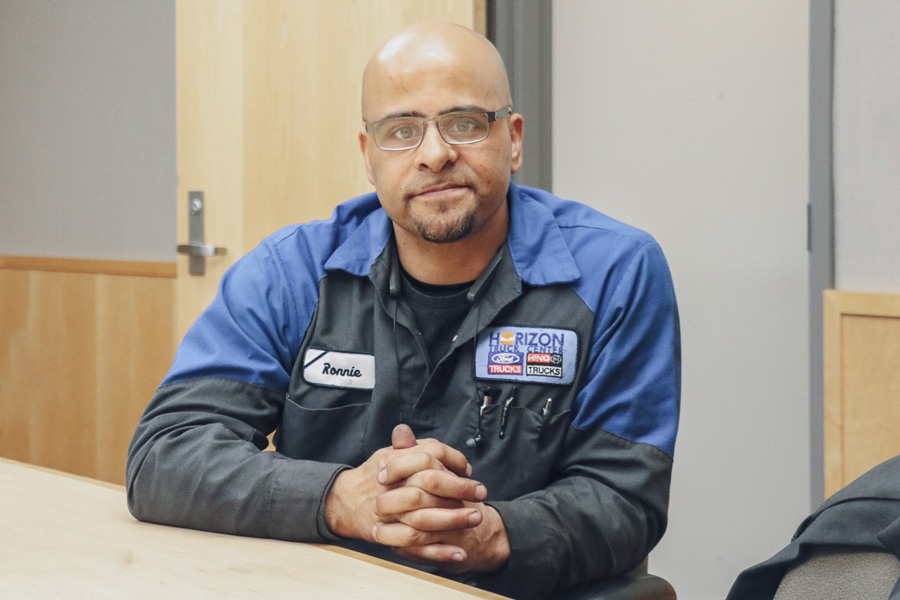 One of Ronnie Larry's earliest memories is sitting next to his mom as she shot up drugs.
"I would hold her hand to show her how strong I was while she did it," recalled Larry, a Ford Asset student at Renton Technical College.
Wringing his motor-oil stained hands after a proud shift at work, Larry talked about how he turned his life around and the support he has found at RTC. Growing up, he was surrounded by drugs, crime, violence, and death. His father was murdered when Larry was 11 and a close family friend died of an overdose soon after. Larry found himself in the grip of addiction as an early teen.
"I thought I could be my mom's best friend the way drugs were for so much of my life," he said. "We made the transition from mother and son to one of a using friend."
For many years, Larry lived a destructive life modeled by his extended family and was first incarcerated as a juvenile. A self-described "professional thief," he stole to support his addiction and spent years in and out of prisons in Washington, Iowa, Illinois, Minnesota, and Wisconsin. He moved around to different states seeking a change of scenery.
"Originally I thought a geographic change that would do it. If I didn't know any drug dealers, I wouldn't go look for them," he figured. "But I still found them. I realized the problem was all me."
Finally tired of living that life, Larry sought help for his addiction and counseling to deal with his harrowing childhood. He says with the help of a consistent drug program, supportive friends and counselors, and belief in his higher power, he has been clean and sober for more than six years. He has maintained his sobriety even while many in his family continue to struggle with drugs and incarceration.
"I am just proud to have survived all the trauma I endured for much of my life," he said. "I am no longer a confused, hurt child. I know what it means to listen to other's suggestions for my life. I know what it feels like to love and be loved."
Even during his darkest times, Larry knew he was capable of more. He earned his GED while incarcerated and took welding and psychology courses while behind bars as well. But it wasn't until he first came to RTC that he felt the support he needed to succeed in education and career.
"I'm at the age where if I don't do something in terms of a career, it's going to be too late," said Larry, 48.
As part of the Ford Asset Program – the only one of its kind in the state – Larry goes to school and works at a Ford dealership in Burien. He's there at 6:30 a.m., practicing his trade and earning a living, and then goes to RTC, where he gains skills in the classroom. He can't say enough about his instructor, Brian Thompson.
"He's taught me patience. He's teaching me everything I need to know about vehicles," he said. I'm learning things that I never thought were possible."
Thompson has faith in Larry and admires his commitment to turning his life around.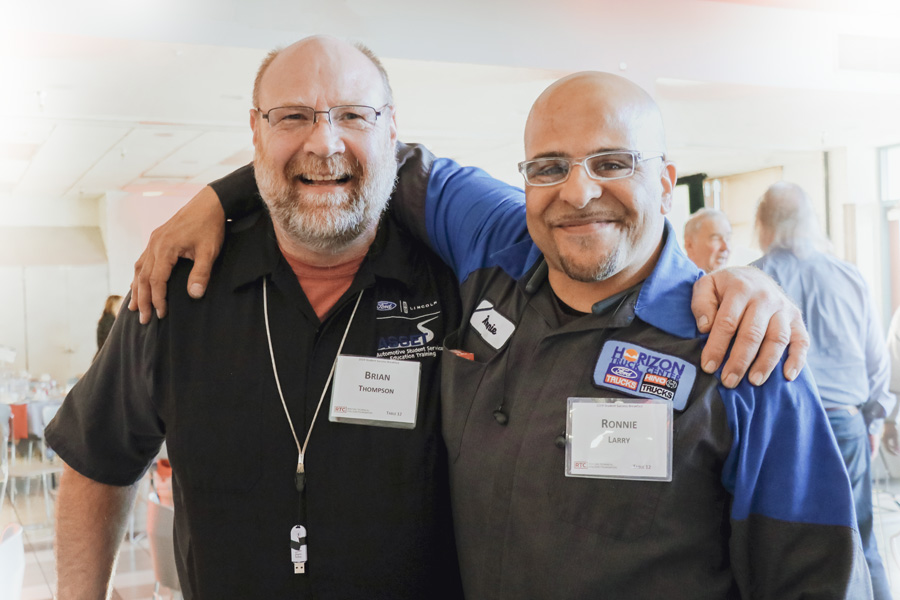 Ronnie Larry with RTC Ford Asset Instructor Brian Thompson.
"He shows dedication to want to learn this industry, and because of that dedication and his perseverance, he will definitely succeed in this program," Thompson said.
In addition to his mentor, Larry says he's been overwhelmed by the supportive community at RTC. Behind bars, he developed "an angry bitter face" that became who he thought he was. Now he smiles broadly as he talks about his new life and the staff, instructors, and others in the RTC community who have welcomed and encouraged him.
"It's changed me from a bitter person to a happy person," he said. "From the time I walked in the door here I had a smile on my face. I have such a heart of gratitude. School has not been my strong suit, but it's nice to have people that will help to guide me."
Gerald Bradford, a student success specialist who works with students transitioning from incarceration, said he could tell how much Larry wanted to find a career. Bradford built his trust and helped Larry get settled at RTC. 
"I was standoffish and cold, but he was patient," Larry said of Bradford.  "Everything he said he would do he did. That was huge to me. He genuinely wanted to see me succeed."
Larry also received a Grandma Cares for Trades Scholarship through the RTC Foundation. The scholarship was established by an anonymous donor who believes in giving people second chances.
"I didn't think I'd ever get a scholarship because I'm not a 'Johnny do-gooder,'" Larry said. "I came from a tough life. I didn't know there were people that kind out there who cared about my progress in life."
Committed to staying clean, in school and working toward a long-term career, Larry says he has healthy boundaries with his siblings and stays away from those who abuse drugs. He is working on re-establishing relationships with his own children and wants to end the cycle of addiction.
 "It's ripped our whole family apart," Larry said. "I want to be the one to lead my family and my siblings out of this curse that hit my family."