Michele Lesmeister grew up reading library books by the light of a kerosene lamp.
From anybody else, that could be a statement about a childhood of hardship. Not so for Michele, who remembers it fondly and credits it with shaping her career as a teacher and a literacy advocate.
"Poverty gives you a sense of the value of what you do with your time and energy," she said.
That lesson is evident in Michele's career at Renton Technical College. During her 27 years teaching Adult Basic Education, she has powered her way into most of the major initiatives at the college, especially anything dealing with ways to improve instruction. She is also the campus leader of Reading Apprenticeship, a teaching approach designed by the education think tank WestEd. Reading Apprenticeship teaches techniques to make reading both a social and personal experience for students, helping them to perform better in their classes.
For all her contributions, she was named one of the top 5 teachers in the 2018 Ahead of the Class honors sponsored by the Renton Chamber of Commerce, along with schools and businesses.
Michele grew up in Guemes Island, near Anacortes. Her father was an artist and her mother a nurse and botanist. They lived off the grid, literally, with no electrical power and very little money. The family commuted to the mainland on weekends, making a mandatory stop by the public library to stock up on reading materials for the week.
"Growing up in a rural area with very liberal parents encouraged me to take risks," she said. "I was often in trouble in high school for questioning authority."
Michele attended Washington State University (WSU) in 1974, earning a bachelor's degree in linguistics.
In 1977, she used her desire to learn Mandarin and a WSU exchange scholarship to study in Taiwan. The island was still under military rule at the time, with very limited freedoms. She remembers rules that barred any gathering larger than four people and other forms of intimidation.
That experience came to an end after the United States accepted the One-China policy, which says that China is one nation and Taiwan is part of it, not an independent country. The news was not welcomed by the Taiwanese government, and US citizens got the brunt of their displeasure.
"Within hours of the announcement, there were street riots. I was asked to return to the states by WSU," Michele remembers. Six months later, she returned to Taiwan to teach English and hone her Chinese for several more years.
After returning the United States, Michele moved to Tucson, completing a master's degree in ESL education at the University of Arizona.
She applied her advanced education to teach at the University of Arizona and Pima Community College, before coming home to Washington. She joined RTC in 1990 and has been here ever since, teaching writing, math, ESL, and anything else that caught her interest.
"The main thing that keeps me here is the freedom to teach what I want to teach," she said.
She is also moved and motivated by the mix of students at RTC, many of whom come from humble backgrounds too.
"I feel this institution has positioned itself to be a college that accepts diversity in many forms and embraces it," she said.
To honor her mother's legacy, Michele and her family established the Thresa Jane Smart-Benjamin Scholarship to support women students in their transition from Basic Studies to career training – a vital step toward greater independence and family-wage jobs. Nine women will receive awards of $1,000.
"My mom was of the belief that if you educate a woman, you educate a community," she said.
Michele keeps busy on her own, writing textbooks on math and other subjects for Pearson Publishing, lecturing, and working with WestEd and other institutions on the Reading Apprenticeship programs.
"I'm not that special. I'm just driven," she said. "For me, the fun thing is having something important to do every day."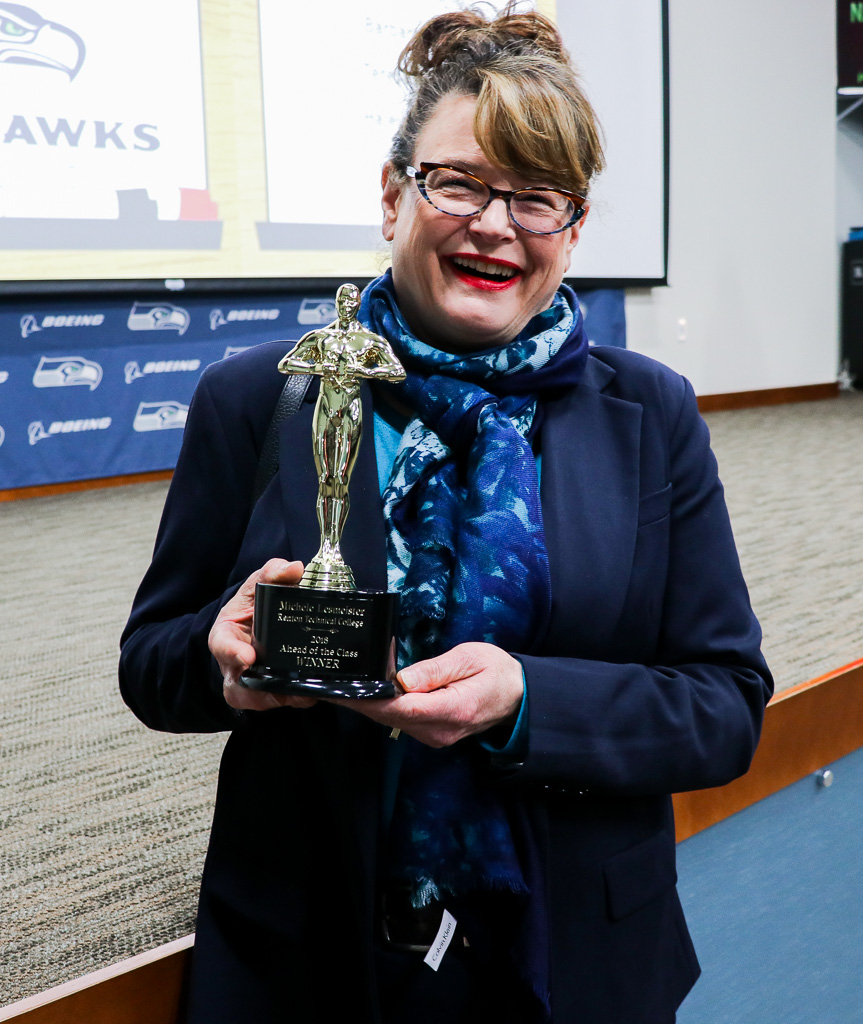 Michele Lesmeister received the 2018 Ahead of the Class Award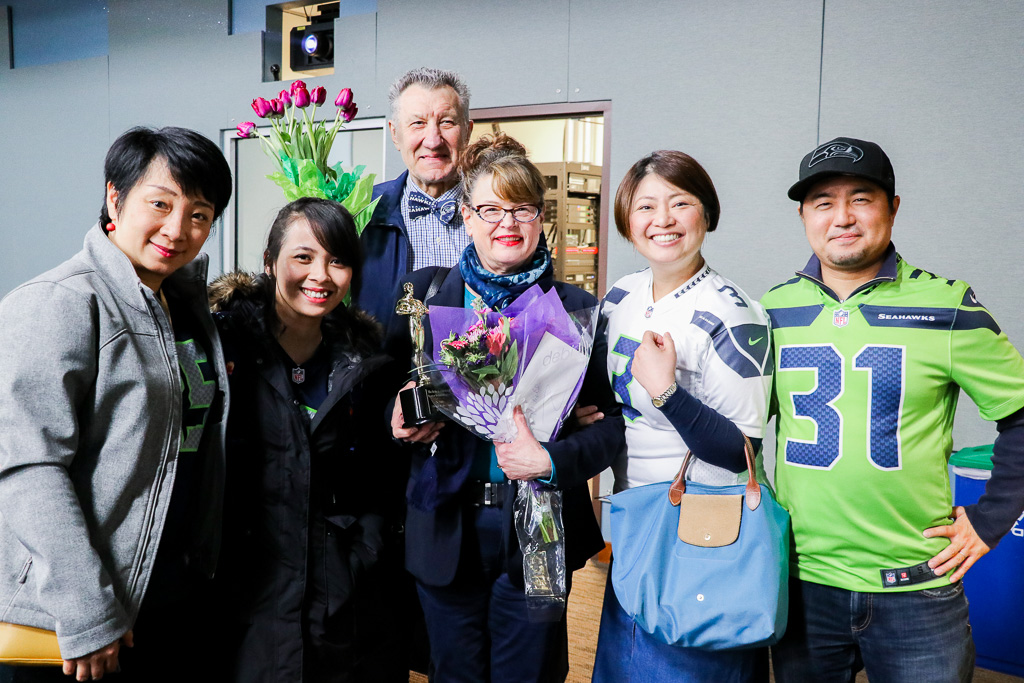 Michele Lesmeister with her students and family after receiving the 2018 Ahead of the Class Award