Congratulations RTC's Spring 2019 Scholar Recipients
The RTC Foundation is pleased to announce the scholarship recipients for spring quarter 2019!
Because of your gifts to the Foundation, we were able to award 101 scholarships to students starting spring quarter--providing them with resources they need to achieve their education goals and stay on track with their career training. The scholars represent 33 RTC programs and over $73,100 in support. Please join us in recognizing the hard work and excellence of our scholars.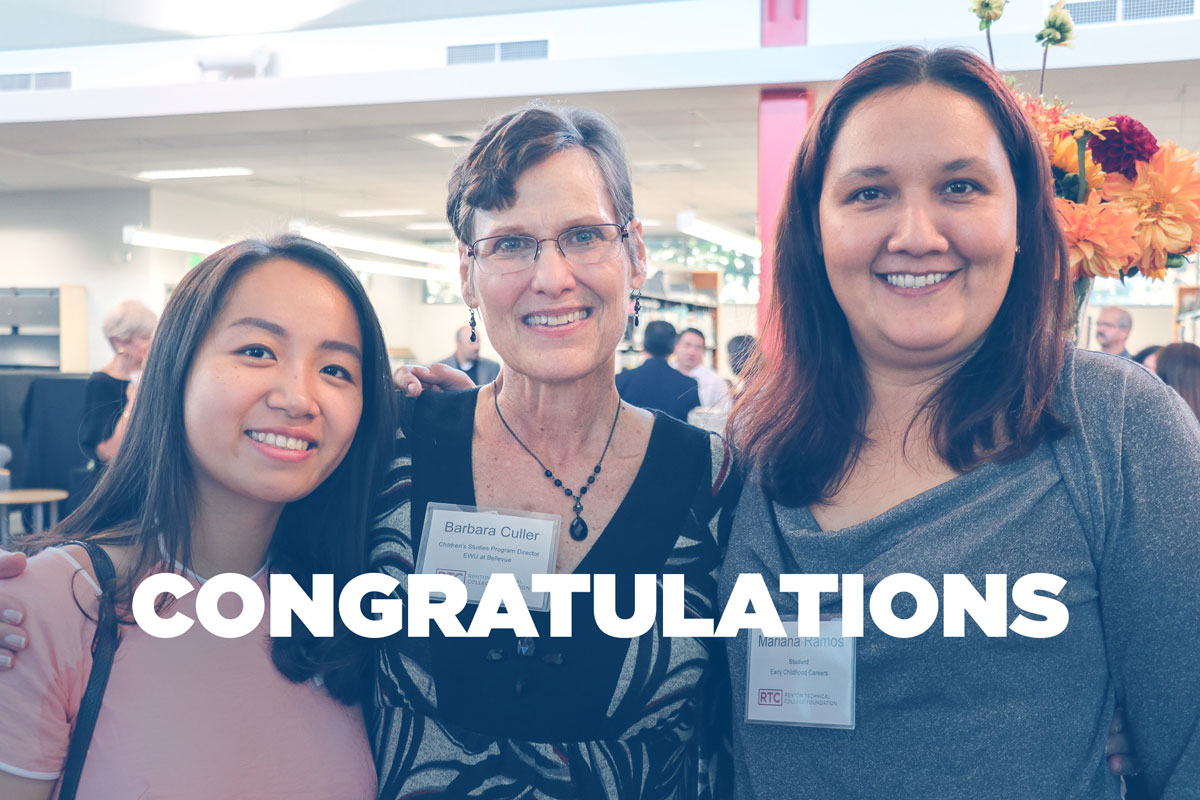 Andee Jorgensen Endowment for Student Success
Linh Linh Tran, Renton - Accounting Paraprofessional
Associated Builders & Contractors of Western Washington Scholarship
Hieu Nguyen, Renton- Construction Management
Mohammad Sahim Samsor, Renton - Construction Management
Barbara Culler Endowment for Early Childhood Careers
Ngoc Nguyen, Renton - Early Childhood Careers
BMW Northwest Scholarship for Automotive Careers
Kayla Curry, Renton - Automotive Maintenance & Light Repair
Donny Schultz, Seattle - Automotive Technology
Board of Trustees Fund
Angelina Onishchenko, Auburn - Registered Nurse
Elena Zolotaia, Renton - Computer Science
Boeing Company Scholarship
Towela Nyirenda, Seattle - Computer Science
Lyubomyr Savchuk, Renton - Computer Science
Chi Tran, Tukwilla - Accounting Specialist
Polina Vargot, Renton - Applications Development
Anna White, Renton - Computer Network Technology
Phung Wiley, Renton - Accounting Specialist
Chaine des Rotisseurs Scholarship
Maria Georgina Luquin, Renton - Culinary Arts
Jessica Vickers, Auburn - Culinary Arts
Culinary Arts Fund
Kelly Anderson, Kent - Culinary Arts
Cody Casey, Renton - Culinary Arts
Ford ASSET Scholarship Fund
Alan Cameron, Kirkland - Ford ASSET
Jonathan Greenland, Snohomish - Ford ASSET
Gregory McCarraher, Federal Way - Ford ASSET
Future District 751 Machinists & Aerospace Workers Endowment
Kyle Rehm, Renton - Precision Machining Technologies
Kevin Shellenberger, Renton - Precision Machining Technologies
Duong Thai, Auburn - Precision Machining Technologies
Tristan Vogeler, Renton - Precision Machining Technologies
Grandma Cares for Trades Scholarship
Madison Birkner, Renton - Welding
Jeremiah Boetcher, Kent - Major Appliance & Refrigeration Technology
Toryalai Fazil, Kent - Construction Management
Steven Ostrander, Renton - Construction Management
King Parker Memorial MART Scholarship
Jeremiah Boetcher, Kent - Major Appliance & Refrigeration Technology
Giao Nguyen-Acord, Renton - Major Appliance & Refrigeration Technology
Model A Club - Evergreen Chapter Scholarship
Brandon Walkden, Marysville - Ford ASSET
Muckleshoot Tribal Scholarship
Joshua Emery, Renton - Computer Science
Neima Aden Memorial Scholarship
Nadia Talaourar, Renton - Accounting Specialist
Ziwei Ye, Renton - Computer Network Technology
Northwest GTO Legends Scholarship for Automotive Careers
Robert Monillas, Seattle - Automotive Maintenance & Light Repair
Jeremy Webb, Seattle - Autobody Repair & Refinishing
O.J. Harper Memorial Scholarship
Linh Giang, Renton - Precision Machining Technologies
Phu Nguyen, Seattle - Precision Machining Technologies
Rottler Manufacturing Scholarship
Luat Nguyen, Auburn - Precision Machining Technologies
Cong Pham, Renton - Precision Machining Technologies
Minh Phan, Kent - Precision Machining Technologies
Dat Vong, Renton - Precision Machining Technologies
RTC Foundation Scholarship
Alan Abdullah, Everett - Information Technology: Network-Computer Network Architecture
Rebecca Alvarez, Auburn - Medical Assistant
Laura Bautista-Silva, Auburn - Medical Assistant
Huixia Deng, Renton - Associate of Business
Tien Doan, Renton - Pharmacy Technician
Crissondra Doxey, Tacoma - Medical Assistant
Hae Eh, SeaTac - Automotive Technology
Aracelis Fahie, Tukwila - Computer Network Technology
Amanda Foresman, Tacoma - Anesthesia Technologist
Sabrina Gatliff, Seattle - Registered Nurse
Phillip Gaulden, Renton - Entrepreneurship & Small Business Management
Stacey Halstead, Renton - Automotive Maintenance & Light Repair
Rachanna Hang, Seattle - Anesthesia Technologist
Lindsay Hoskinson, Kent - Dental Assistant
Shellan Hoskinson, Renton - Associate of Pre-Nursing
Elizabeth Jones, Ravensdale - Massage Therapy Practitioner
Anthony Kibuchi, Kent - Automotive Maintenance & Light Repair
Hannah Kim, Auburn - Registered Nurse
Samantha Kraft, Kent - Dental Assistant
Julianna Lively, Covington - Pharmacy Technician
Rachelle Mayes, Kent - Surgical Technologist
Ahmad Monir, SeaTac - Computer Science
Dung Nguyen, Tukwila - Registered Nurse
Van Nguyen, Seattle - Medical Coding Specialist
Stela Petkova, Newcastle - Accounting Specialist
Ngan Pham, Seattle - Registered Nurse
Lanetra Powell, Renton - Dental Assistant
Marina Saldana, Renton - Computer Science
Martha Sanders, Kent - Land Surveying Technician
Donny Schultz, Seattle - Automotive Technology
Roxanne Stansberry, Seattle - Leadership in the Trades
Jeremy Tan, Renton - Computer Programming
Ling Thang, SeaTac - Autobody Repair & Refinishing
Yelena Torchilo, Lynnwood - Registered Nurse
Linh Linh Tran, Renton - Accounting Paraprofessional
Samantha Tran, Renton - Ophthalmic Assistant
Renan Visperas, Seattle - Automotive Technology
Samantha Wheeler, Maple Valley - Registered Nurse
ShaoShi Xue, Seattle - Accounting Specialist
Mark Yap, Renton - Medical Assistant
Steve Hanson Student Leadership Scholarship
Nona Arreola, Des Moines - Registered Nurse
Jasmine Holman, Renton - Information Technology: Network-Computer Network Architecture
Ramandeep Kaur, Renton - Registered Nurse
Andrew Larsen, Seattle- Land Surveying Technician
Swedish Medical Center Healthcare Scholarship
Anyes Kim, Fircrest - Registered Nurse
Alan Nguyen, Renton - Registered Nurse
Megan Sifuentes, Bellevue - Registered Nurse
Tiffiny Thrash, Seattle - Registered Nurse
Thresa Smart-Benjamin Memorial Scholarship for Women
Jargalan Magsar, Bellevue - Accounting Specialist
Nadia Talaourar, Renton - Accounting Specialist
Hongxia Zheng, Renton - Massage Therapy Practitioner
Unico Properties Scholarship
Sergii Serediuk, Auburn - Commercial Building Engineering
Warren Secord Memorial Scholarship for Automotive Careers
Alexis Burton, Kent - Automotive Technology/ITEC
Watt Family Aerospace Diversity Scholarship
Israa Aiabdalrhman, Renton - Engineering Design Technology
Whitney Dillon, Kent - Aerospace & Industrial Production Technologies
Quinton Stamm, Renton - Welding
Tristan Vogeler, Renton - Precision Machining Technologies
Brhane Weldemariam, Renton - Aerospace & Industrial Production Technologies