Students in the Veterinary Assistant Program at Renton Technical College will have an edge in their education and careers as part of the only accredited program of its kind in Washington.
The program received notification of its accreditation from the National Association of Veterinary Technicians in America (NAVTA.) on Oct. 11.  The accreditation allows RTC students to sit for a national board exam, and become AVA- Approved Veterinary Assistants upon passage. 
"This will place the student above the bar as a vet assistant," said instructor Lauri Roede.
Christopher Carter, dean of Allied Health, which houses the program, credited Roede's tireless commitment to pursing accreditation and said it strengthens the program.
"This will serve as the foundation for the program, as well as its future," Carter said.
The program prepares students to assist veterinarians with surgical and nursing care, lab procedures, administering medication, and more. The four-quarter program enrolls students each fall. For more information, visit https://www.rtc.edu/veterinary-assistant.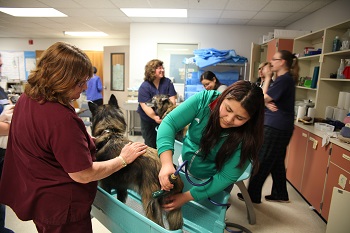 Students in the Veterinary Assistant Program work with animals during their education.