Published Tuesday, June 19, 2018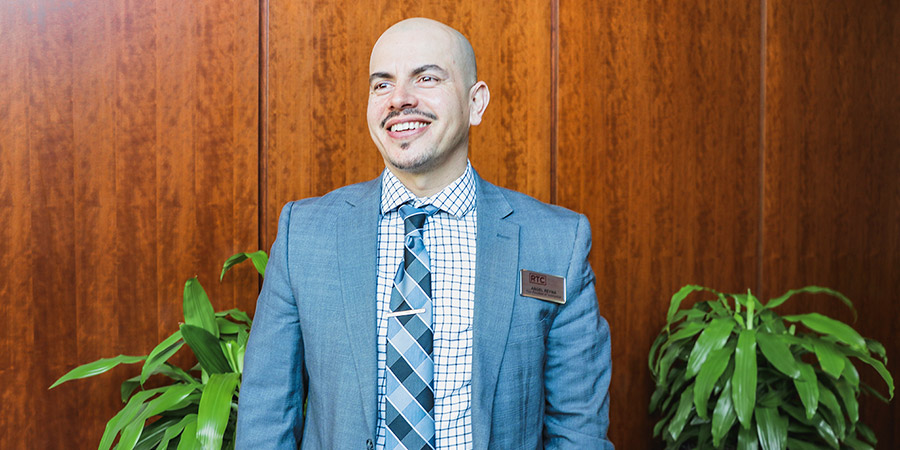 Angel Reyna, vice president of instruction at Renton Technical College, is one of 24 community college administrators nationwide selected as a 2018 Hispanic Leadership Program Fellow by the National Community College Hispanic Council.
The prestigious program is hosted by the University of San Diego (USD) School of Leadership and Education Sciences and is designed to develop a pool of highly qualified Latin(as)os interested in advancing their careers, with the ultimate goal of becoming a community college president.
Reyna assumed his role as vice president at RTC in 2015, after deanships at Walla Walla Community College and Yakima Valley Community College.
"Preparing strong leaders for the future is the primary purpose of the National Community College Hispanic Council's Leadership Fellows Program," said NCCHC President Maria Harper Marinick. "A demographic shift is occurring in the United States, and we are preparing new leaders who can model the way for the growing Hispanic population our community colleges serve."
Fellows gain knowledge and skills to lead higher education into the future and positively impact the economic and civic success of their respective communities. Components include two residential raining seminars. Each fellow prepares an individualized professional development plan and engages in a mentoring relationship with a Hispanic community college leader.
NCCHC is an affiliated council of the American Association of Community Colleges was established 30 years ago to promote the educational interests and success of the Hispanic community and emphasizes access, equity, and excellence for students and staff in community colleges. Since the program's inception, more than 250 community college administrators have participated as Leadership Fellows.
Today, twelve of the 65 Latino community college CEOs nationwide are former NCCHC Fellows, and the program's national impact on the leadership pipeline continues to grow. During a recent 16-month program, at least 42 former Fellows were promoted, including three vice chancellors; eight presidents; seven vice presidents; 12 deans and 12 directors.  Additionally, two former Fellows now serve as vice chancellors at four-year institutions.