Financial Aid
The primary objective of financial aid is to assist students and their parents in meeting basic educational costs. All financial aid programs at Renton Technical College are administered in accordance with established state and federal regulations and policies. At the core of these policies is the belief that financing a student's education is the primary responsibility of the student and his/her family. If combined resources are not sufficient to cover expenses, a student may be eligible for financial aid. A student's financial aid award is based on a demonstrated financial need. That is calculated as follows:
Estimated Cost of Attendance - Expected Family Contribution (EFC) = FINANCIAL AID NEEDED

Two Major Changes to the 2017-18 FAFSA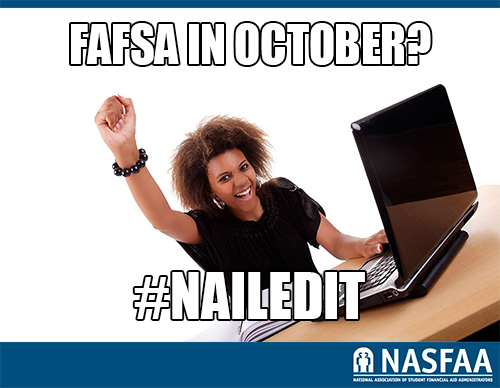 ---
Scholarships
Scholarship opportunities at Renton Technical College are offered quarterly by the RTC Foundation. These funds are generously donated by individuals, organizations, and companies committed to student success. To find out more information about scholarships, please see the Foundation Scholarship page.
---
Important Financial Aid Deadlines
THE DEADLINES TO HAVE A COMPLETED FILE* TO BE PAID ON THE FIRST DAY OF THE TERMS ARE AS FOLLOWS:
SUMMER QUARTER, 2017 – MAY 1, 2017
FALL QUARTER, 2017 – JULY 3, 2017
WINTER QUARTER, 2018 – NOVEMBER 1, 2017
SPRING QUARTER, 2018 – FEBRUARY 1, 2018
*A completed file is one that has been screened and no further documents are required.
If you have a student loan only and are a new student, you will be subject to the thirty day delay of funds mandated by the federal government. Please see the financial aid office with questions or concerns.
Contact
---
Phone: (425) 235-5841
FAX: (425) 235-2434
Regular Hours
Monday-Thursday, 9:00AM to 4:30PM
Friday, 9:00AM to 1:00PM
Summer Hours (during summer quarter and break)
Monday-Thurs. 9 a.m - 4 p.m.
Friday 9 a.m. - 1 p.m.
Location
Robert C. Roberts Campus Center, Building I
Address
Financial Aid Office
Renton Technical College
3000 NE Fourth Street
Renton, WA. 98056
E-mail to financialaid@rtc.edu